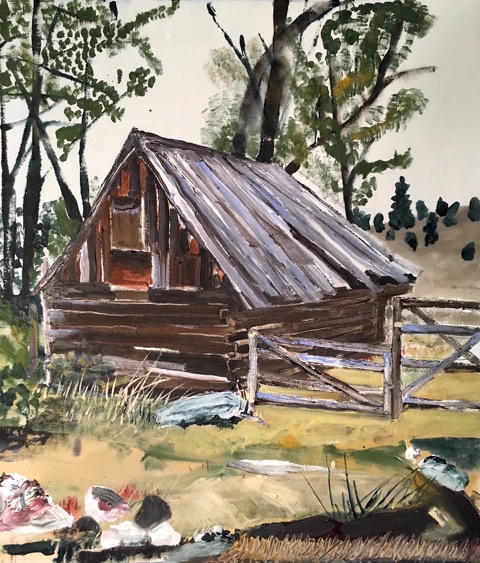 Ben Bloch works both independently and collaboratively (as Goatsilk) using painting, digital media, interactive performance design and time-based art. He formerly wrote a column about art and culture for the Missoulian newspaper and sered as visiting professor of New Genre Art at Whitman College. In his work he hopes "to offer a way to celebrate the sense of wonder and adventure that Montana has always offered, while depicting scenes that integrate the present with the past."
Ben Bloch worked in the Virginia City National Historic Landmark during the month of July 2016. He writes . . .
I had a wonderfully productive month working as an artist-in-residence for the Reimagine Montana project in Virginia City. The historical significance of Virginia City and the surrounding areas provided great material and thought from which to create a series of new painted images. Each week I spent time exploring the region—from the Alder Gulch to neighboring towns and ranches—gathering
photographs and impressions to use as source material for the series. I worked daily in the rehearsal hall at 316 West Idaho Street, and stayed at the old revamped hospital now known as the Bonanza Inn. I created several paintings that focused on the beauty of surrounding architecture, from old shacks to new false fronts in the Nevada City strip mall. I also focused on the highways and fences that have merged
in the last century, infrastructure that has become integral to our vision of such a place, and which also enables us to go there and see it. As I have always done in my work, I like to let the timeless beauty of Montana's ever-transforming skies be a constant character in some of these works. And finally, because Virginia City is so
charged with the vitality and brutality of what, by history's standards, is a relatively recent gold rush, I tried to infuse some of its famous hauntedness into some of the pieces.